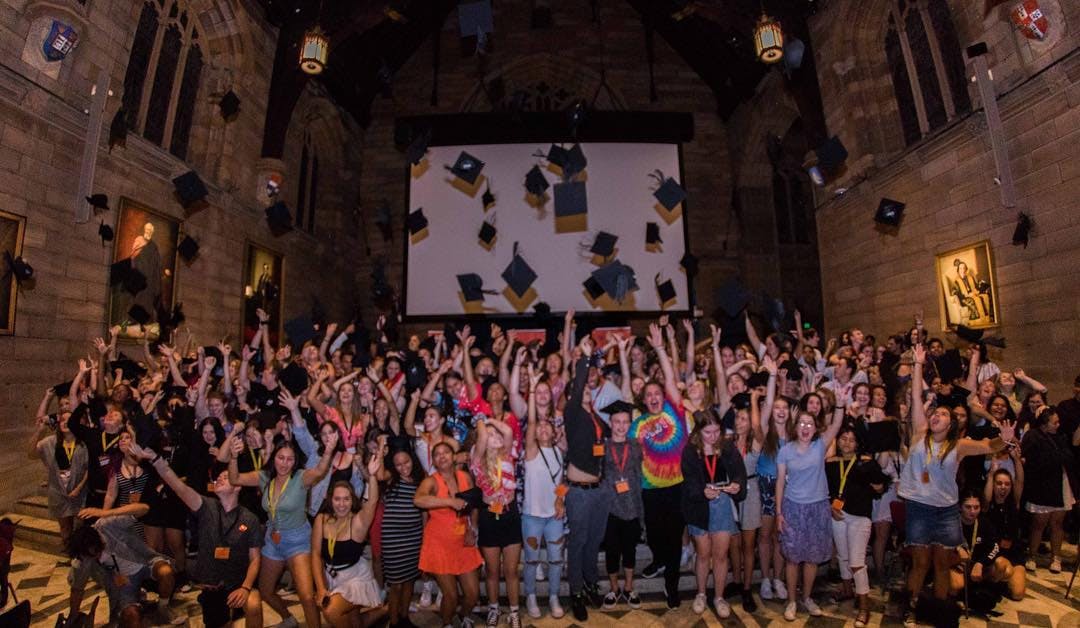 Looking back at the Friday wind-down and future plan-making.
It's always sad to say goodbye to everyone after a whirlwind week of making friends, learning about future study paths and mucking around at the beach. And it's really, really hard to concentrate on all that information about applying for scholarships when you know you won't see these people for another year (or looooonger).
As usual, Christian from Mossman was DJing in the main hall. Around his blasts of Flo Rida were last rounds of Uno, tired students filling out evaluation forms in the heat, swapping numbers and/or social media deets before they get on buses to the airport.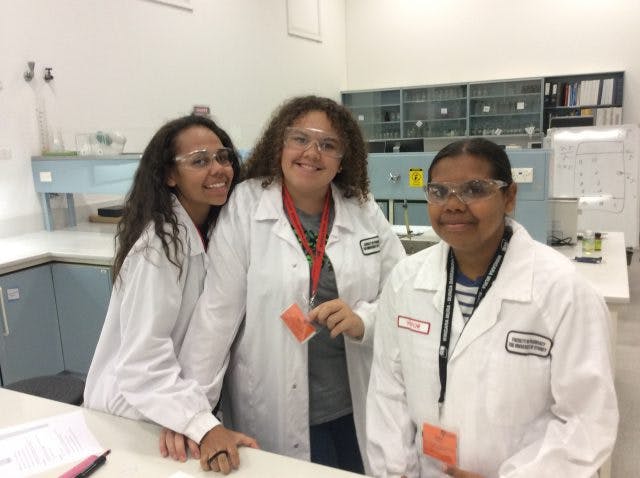 We had a chat to Sophie and Josephine from the North Coast, aka The Pharmacy Girlzzz, who have become such BFFs they talk over each other, like this…
At first obviously it's kinda like "I wanna go home because I know no-one" but the third day, when I started interacting and we had our own little group, now it's so sad leaving them
Yeah, and most of them live around Australia so you're never going to see them again
The first two days you weren't talking, the last two days you're hanging around all the time…
I feel like the only thing I didn't like was the fact they were playing such crappy music – now it's good, but the other night…
…and when you're eating breakfast, lunch or dinner, you couldn't eat in peace because everyone was just singing or battling each other with music playing really loud or tapping around. Music people just jammin' out in the middle of lunch!
Other than that, it was better than I thought it was going to be
And it hits you on the last day – it really, really hits you
It's good to have a certificate saying you've done something – that you're dedicated – especially where we're from, most kids don't get out
We're from rural areas, the country
We go into town and there's only one or two shops
The best thing was the world-class facilities we went to
Oh yeah, the facilities… "World-class!" Hahaha!
Meeting the surgeons and the pharmacists and all that – really good
It was really fun
And good to be around people who are doing the same thing
Yeah, it's good like that…other Indigenous kids
The professors were really cool, too. You have some boring ones, and then you have really good upbeat people who are really passionate about what they did, eh?
They couldn't stop talking about what they did.
And it wasn't just the students who were feeling that way. First-time Student Leader Doug, from Architecture, Design and Planning, was also sorry to see the week end.
"It's been sad," he said. "I didn't think I'd get that emotionally involved, I had a couple of kids say that at the start they didn't know what they'd got into, and weren't sure if they wanted to be here – but by the end they didn't want to go home. That was a great feeling.
"And also, at the airport there were tears everywhere…"
As he left, we asked Christian who he's going to DJ for now. "I got 25 people here," he said, gesturing to the airport shuttle. The party bus lives on…
YOU MIGHT ALSO LIKE: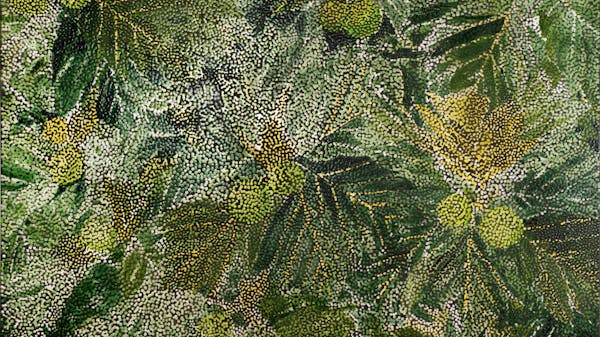 bb2020, winterprogram, wmbb
Jul 31, 2020
Bunga Barrabugu 2020 Spotlight: Kaiawa & Mariah
Australia always was, and always will be, Aboriginal land. But we have a past built on violence, and we can't move forward without acknowledging that.  Kaiawa and Mariah, two students who attended the Bunga Barrabugu Winter Program in July 2020, know about this more than most. Their grandparents were part of the stolen generation, and…
bb2020, winterprogram, wmbb
Jul 29, 2020
Wrap Up: Bunga Barrabugu 2020
Between 13 – 17 July 2020, 34 Indigenous Year 12 students attended the Bunga Barrabugu Winter Program from all around Australia. And look – even though this year we had to go completely digital, the week still went by in a study-crazed flash. From prepping for exams, to subject-specific deep dives, to scholarship applications, this…
wmbbsummer, atsi, wmbb
Feb 25, 2020
Wingara Mura – Bunga Barrabugu Summer Program
7 – 11 December, 2020 Apply to join us on the 2020 Wingara Mura – Bunga Barrabugu Summer Program! Spend five days at the University of Sydney on a residential program for Aboriginal and Torres Strait Islander students in Years 9-11. This program will give you the chance to experience uni life, explore world-class facilities…