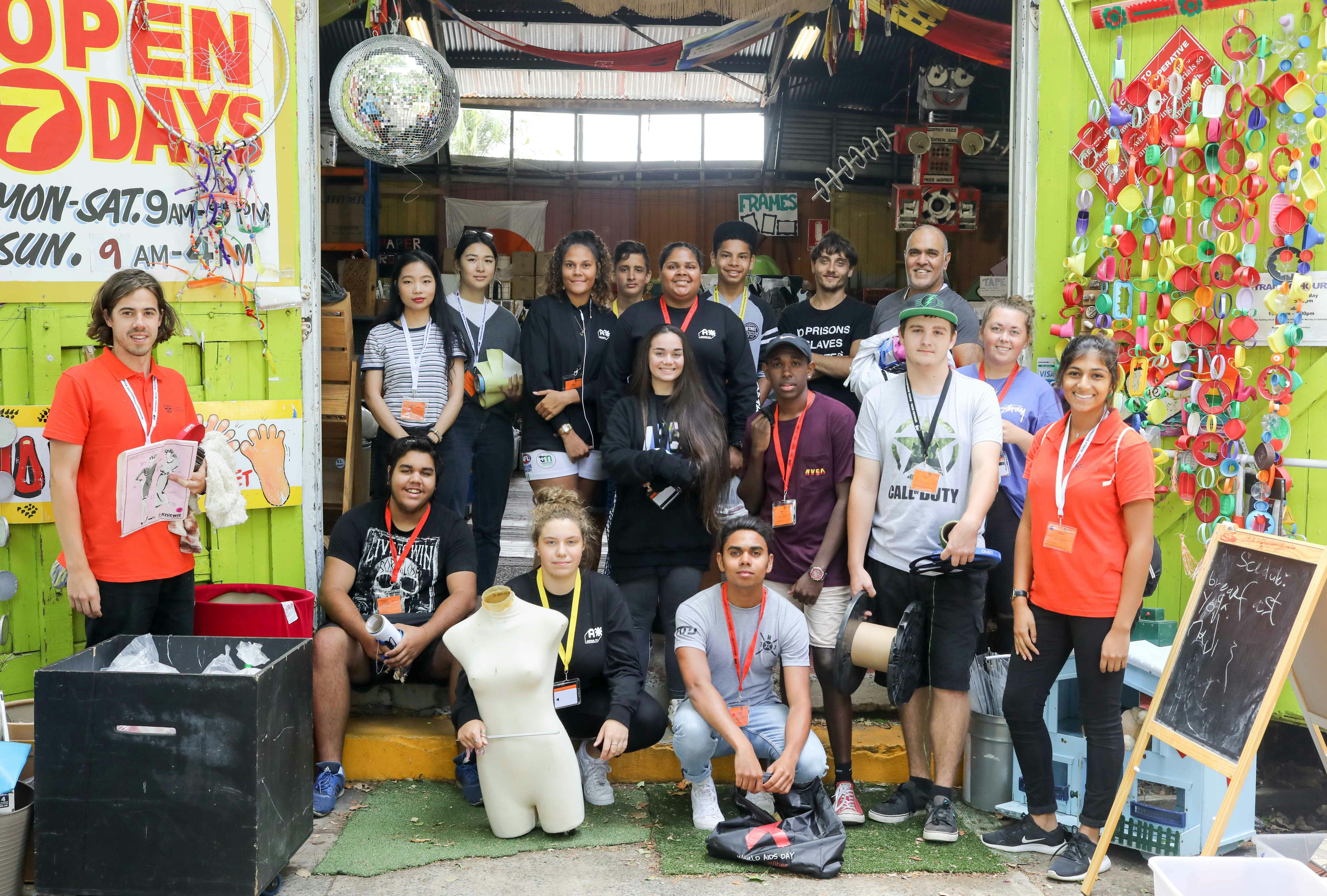 It isn't just about walls and windows – buildings can be powerful weapons.
This morning, led by main man Michael Mossman, the Architecture, Design and Planning crew visited the first university building constructed in the colony of NSW (conveniently, it was on campus at Sydney Uni).
The Great Hall was designed to represent British culture in all its globe-spanning glory; everything about it says "This is an important building", from white stone statues of great men to the vaunted wooden ceiling to the stained glass windows. If you didn't know better, you'd think you were in England.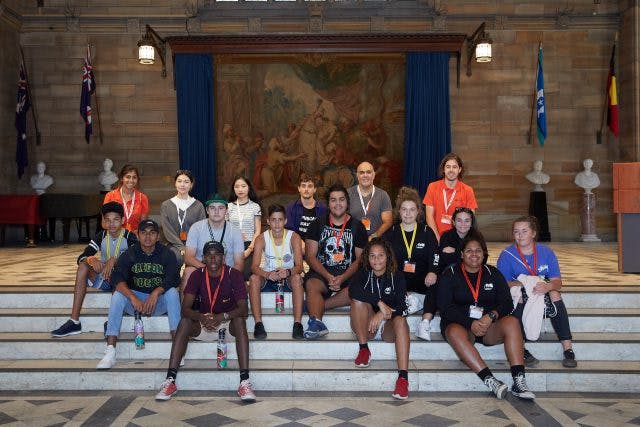 This year, in a first for the WMBB Program, the crew is going to build a shelter within this architectural symbol of British invasion – a 4m wide, 2m high sanctuary crafted of triangular facets, like a geodesic dome, to interrupt the space.
With the counter-invasion plan in place, it was time to visit Reverse Garbage in Marrickville.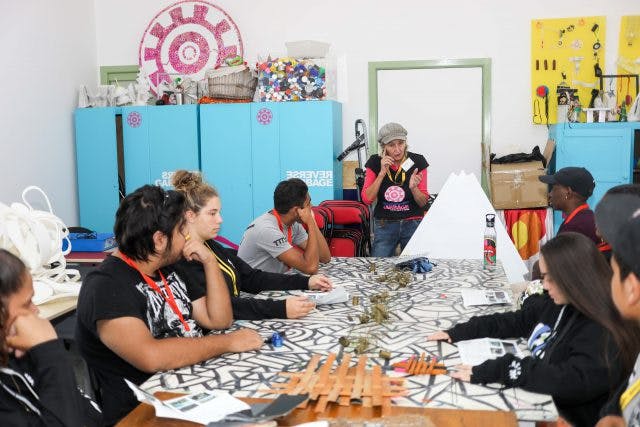 Here, found-objects sculptor Fiona Arnold gave a pep talk on finding beauty in chicken wire and discarded blinds before letting everyone loose on Reverse Garbage's warehouse collection of discarded materials that can be turned into art.
"I'll go get the drill… and let's enjoy ourselves!" she said.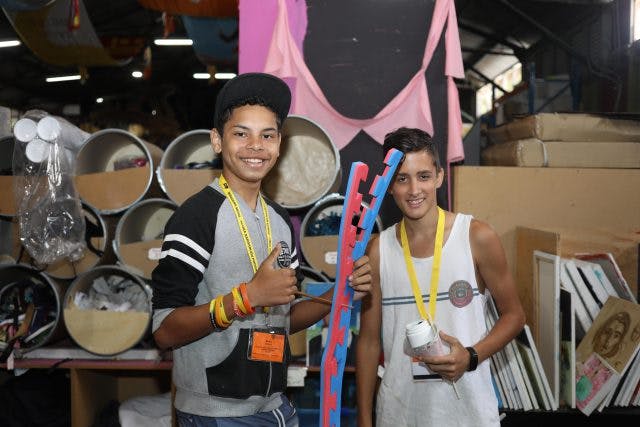 What followed was an exercise in creative thinking, bringing art into architecture courtesy of broken CDs, old light fittings, wine corks, plastic and wooden circles, milk bottle caps. These mundane objects have been upcycled into something meaningful and beautiful with green string, hot glue guns, drills, Stanley knives and a shared sense of fun.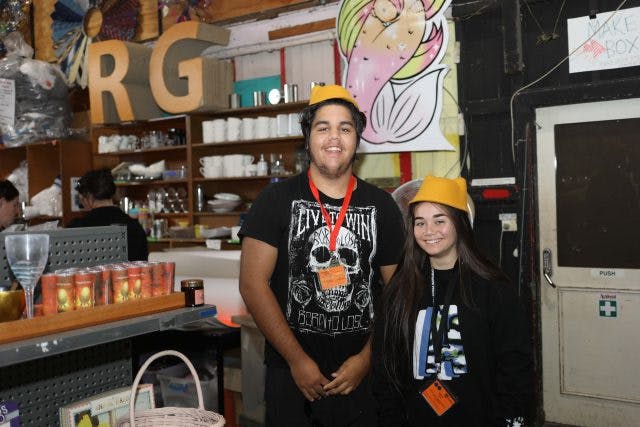 "It's great coming to Reverse Garbage and seeing what can be made with things that have been recycled – seeing such artistic freedom is really cool," said Year 12 Perth student Rohan (seen above), who'd like to design and build structures in remote communities. "I grabbed some ribbon, some string, glasses and a few little knick-knacks."
This is how meaning accrues and creates a shelter within an invader's bootprint. Can't wait to see how it turns out on Thursday night!
YOU MIGHT ALSO LIKE: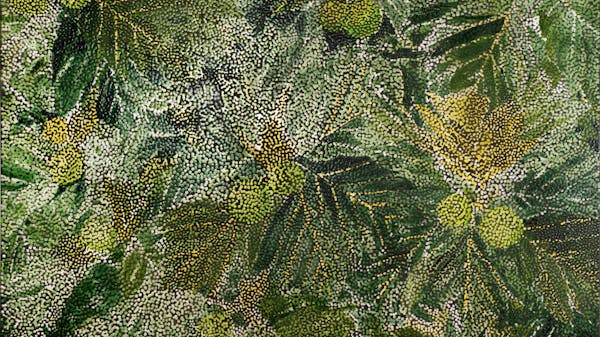 bb2020, winterprogram, wmbb
Jul 31, 2020
Bunga Barrabugu 2020 Spotlight: Kaiawa & Mariah
Australia always was, and always will be, Aboriginal land. But we have a past built on violence, and we can't move forward without acknowledging that.  Kaiawa and Mariah, two students who attended the Bunga Barrabugu Winter Program in July 2020, know about this more than most. Their grandparents were part of the stolen generation, and…
bb2020, winterprogram, wmbb
Jul 29, 2020
Wrap Up: Bunga Barrabugu 2020
Between 13 – 17 July 2020, 34 Indigenous Year 12 students attended the Bunga Barrabugu Winter Program from all around Australia. And look – even though this year we had to go completely digital, the week still went by in a study-crazed flash. From prepping for exams, to subject-specific deep dives, to scholarship applications, this…
wmbbsummer, atsi, wmbb
Feb 25, 2020
Wingara Mura – Bunga Barrabugu Summer Program
7 – 11 December, 2020 Apply to join us on the 2020 Wingara Mura – Bunga Barrabugu Summer Program! Spend five days at the University of Sydney on a residential program for Aboriginal and Torres Strait Islander students in Years 9-11. This program will give you the chance to experience uni life, explore world-class facilities…