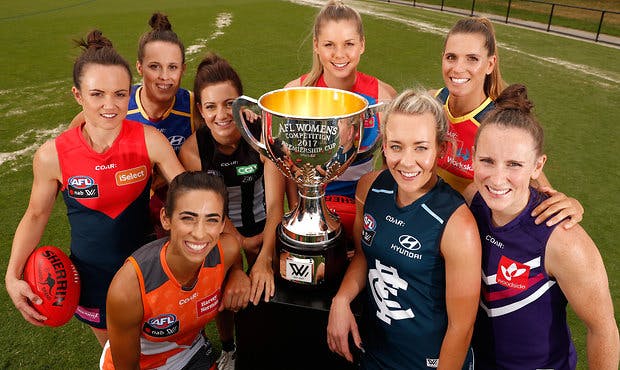 The new AFL Women's League starts tonight. Here's what you need to know.
It's been a long time coming, but finally there's a top-flight women's league in AFL so female footy careers aren't cut short at 13. The first bounce – Collingwood vs Carlton – is at 7.45pm tonight on Ikon Park, with the game expected to run for two hours. Before you start cheering them on (or waiting impatiently for the other three games this weekend), here are some informations for your learnings.
How is it different to the men's league?
There are a few minor differences to what we're used to seeing, but nothing major. The ball is slightly smaller, there are 16 players on each side instead of 18 and – as a concession to the summer heat – quarters will be 15 minutes each plus time on after goals and major injuries, and there's no limit on interchanges. Off the field, penalties will be limited to reprimands and suspensions, rather than fines, for the seven-week season (plus Grand Final).
Where can I watch it?
Obviously the first option is to go to a game – apparently all entry is free, at least for now. But if you aren't near a venue, your options are to watch the games live on afl.com.au or the AFL Official App. If you have pay TV, FOX FOOTY will be broadcasting every game live (apparently some games will be broadcast on free-to-air TV, too). Finally, there'll also be updates on the AFL Women's Twitter account.
Who should I barrack for?
If you're already a fan of one of the eight clubs taking part in the inaugural season – Collingwood, Carlton, Greater Western Sydney, Western Bulldogs, Melbourne, Fremantle, Brisbane and Adelaide – you're laughing. In fact, you already own the beanie and jumper.
Things get a bit trickier if your club didn't get a place in the 2017 comp. The St Kilda Sharks, for example, saw 13 of their players drafted to other teams. Do you follow Moana Hope to Collingwood or Brianna Davey to Carlton? It's a tough decision. That said, Geelong, Richmond, West Coast, St Kilda and North Melbourne all have provisional licences, so there's every chance they'll field teams in 2018.
Finally, if you're a newcomer to the game, you can follow the path that led to a generation of sad Richmond supporters still talking about the 1970s – barrack for whoever dominates this year and stick with them through thick and thin for the rest of your life, even though they haven't won a premiership since 1980.
YOU MIGHT ALSO LIKE: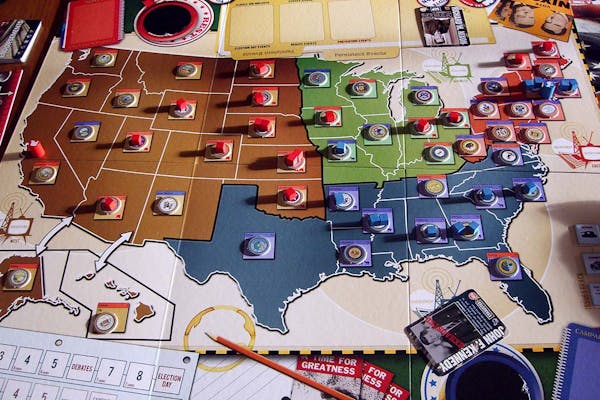 learn-something, news, politics
Nov 12, 2020
How does the American electoral system work?
Learn it now so you can be ready for the next one… if there is a next one. (Nah, there will be.) The eyes of the world have been on the USA's election, and it hasn't been the easiest thing to understand. For starters, it isn't like you vote either Democrat or Republican, and whoever…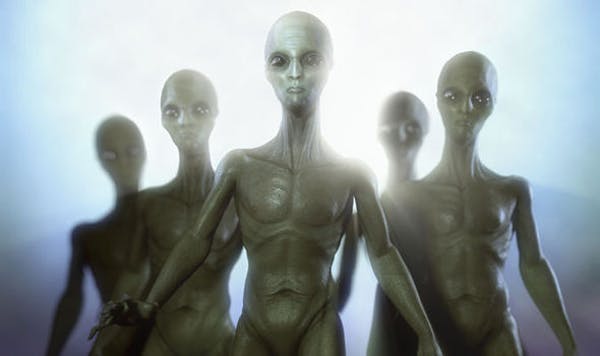 learn-something
Nov 28, 2019
Meeting new people in a new place
You're a stranger in a strange land: how do you turn all those unfamiliar faces into friends? Moving to a new city – or even a new school – can be a scary experience. It makes you think about who you are, and what that means when you're separated from the people you've grown up…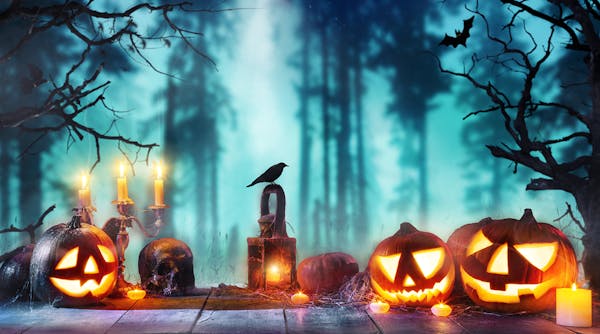 learn-something
Oct 31, 2019
Things to actually be scared about this Halloween
There are worse things than ghosts and goblins and the ghosts of goblins… Most of the time, we do our best to stay positive, upbeat and focused on the good in the world – whether that's nice things that are happening or ways we can personally use our time and energy to improve existence. But…