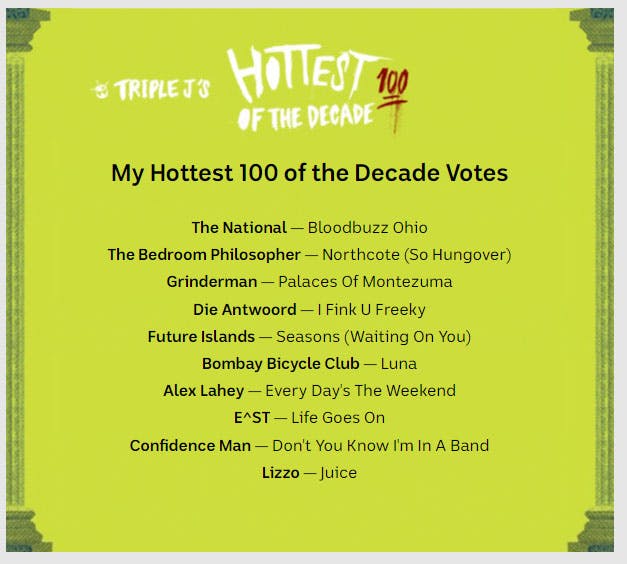 We've had some time to think about the results and… look. It turns out a decade is a really long time.
Voting in this thing was like scrolling through alllll thephotos you've ever taken on your phone, then hauling out a dusty old album withactual photos in it. Who knew Pumped Up Kicks happened this decade?Or even Talk is Cheap for that matter…
Music is weird
On the one hand it seems crazy to be voting on the best songsacross such a long span of time, but this is also an opportunity to think aboutwhat music means to you, and to other people, separate from competitiverankings.
If my uncles are any indication, even the songs you hateright now – the ones that are like wallpaper to your life, and really irritateyou – they're the ones you'll be singing with your mates at barbecues in thedistant future. (In this case, it's more likely to be Chandelier than Bangarang.)
There are songs that will forever be about a certain person:whether that's someone who broke your heart, someone who made you laugh untilyour stomach hurt or someone who jumped up on an outdoor table and sang theWORST cover version of bad guy. In 2030, when we're voting again, a songwill float by on Coles' in-store radio and you'll be immediately transportedback in time.
Gaming the system
I'm not talking about the seemingly dodgy fact that TameImpala, of all bands, has been voted the best song of the past 10 years. Like,in the world. Like, what. Like, am I dirty that not a single one of my choicesmade the top 100? Shut up, and let's move on.
Gaming the system 2.0
Sorry for telling you to shut up back there. I'm talking abouthow you can pre-load memories with a great soundtrack for your future self toenjoy. Basically you want to create a bunch of playlists with songs fordifferent occasions. Then, when something devastating is about to happen – likeyou're being broken up with – you play one of your sad songs. If something amazinghappens, you blast one of your happy songs. And sometimes you put on completelyrandom tracks with no connection to anything, to keep your future selfguessing.
Trust me, in a decade or so, you'll remember this articleand thank me. Or maybe curse my name for making you burst into tears in themiddle of Future Coles.
YOU MIGHT ALSO LIKE: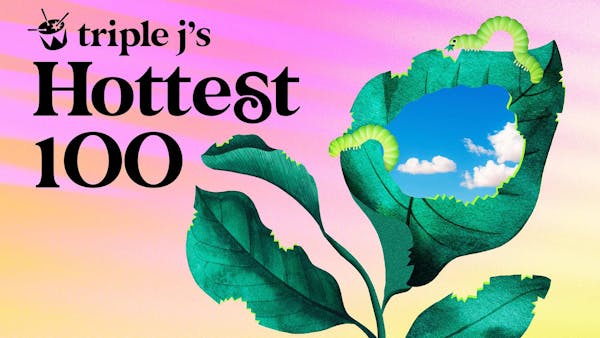 How did the Hottest 100 go this year?
Once again, the nation gathered to find out our favourite choons. And once again, it was a surprising mix of tracks, including heeeeeaps of Aussie acts (66 of them, to be specific). Triple J's Hottest 100 is one of Australia's annual unifying traditions, especially now it's not on January 26 anymore. It brings together music…
all-the-feels, music
Aug 26, 2020
Thelma Plum: taking absolutely no prisoners
The Gamilaraay singer is not here for your bullsh*t. She was everywhere last year with Better in Blak, a propulsive album that's as perfect for getting fired up over racial inequality and bad allies as it is for powering through a to-do list. But where did Thelma Plum come from? She's been around for aaaaages…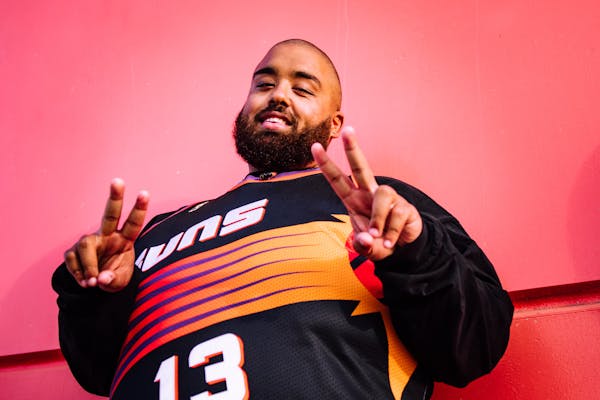 all-the-feels, music
Jun 12, 2020
Adrian Eagle: fighting demons with positivity
And the voice of an angel. Some songwriters go for obscure and hidden meanings, forcing you to work hard to see what they're talking about. Thankfully there are talents like Adrian Eagle in the world, writing clear and honest lyrics that'll get you right in the heart, gut and – most importantly – feet. We're…