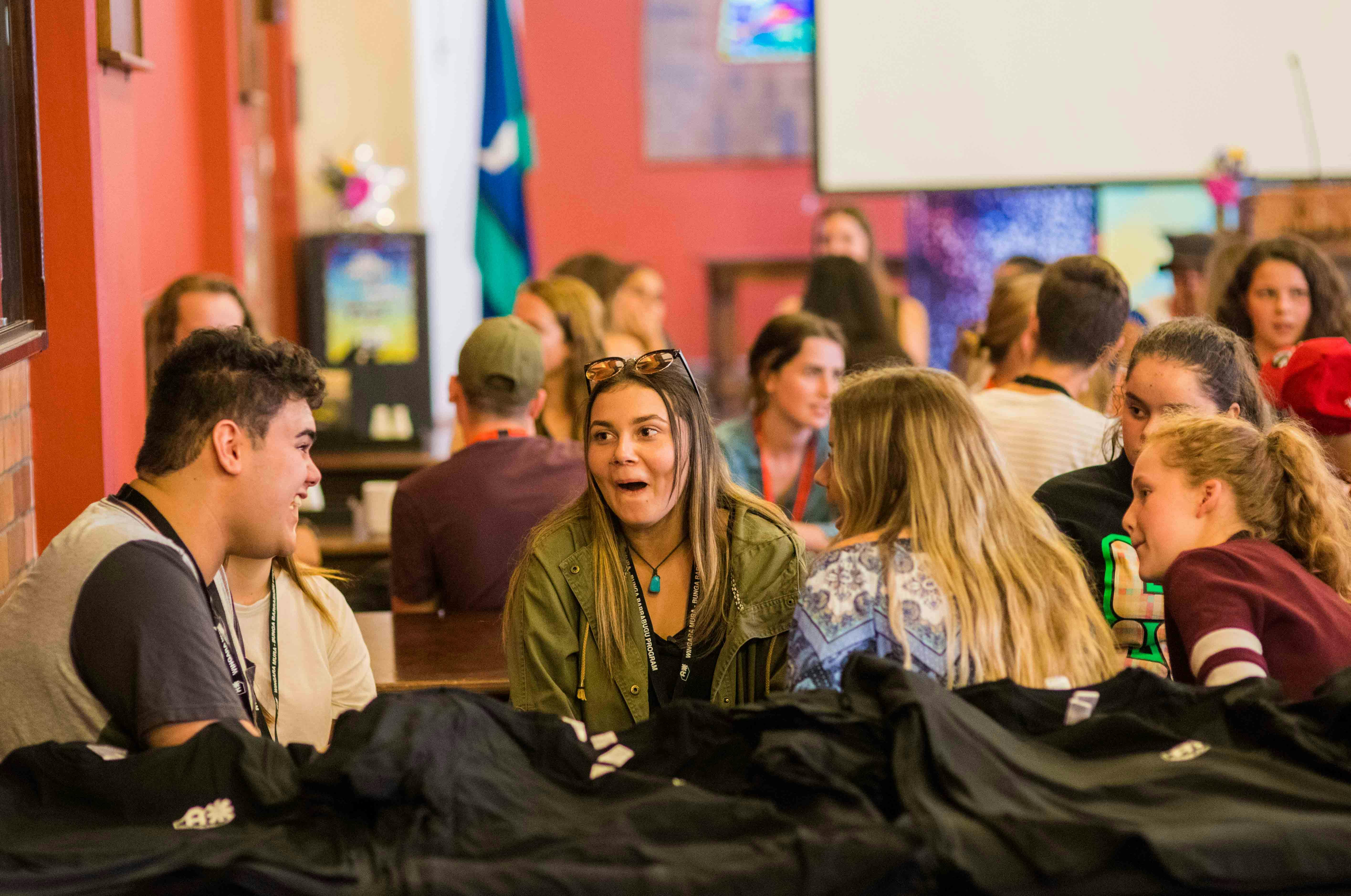 It's the first day of WMBB and everybody is pumped for a week of learning, planning and talent questing…
What's everyone saying?
"Do you know what you want to do after Year 12?"
"No, I'm not sure."
"How many times do you think you'll get asked that question this week?"
"I've already been asked three times today…"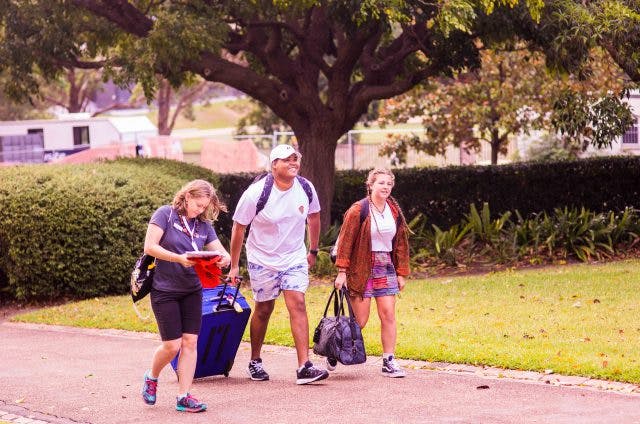 The friends
The Wingara Mura-Bunga Barrabugu Summer Program is a great way to meet new friends and catch up with old ones, but it's also the perfect opportunity to set goals for your future, ask questions from the Student Leaders who've been through the program and think about what motivates you in life.
"They've been texting from their separate buses the whole way here."
Through rain and sunshine – and especially wind – people arrived from all over Australia in trios and busloads to take part in WMBB. There were plenty of excited reunions, one girl lifted in the air for a spinning-on-the-spot hug, one guy leaped on from behind by a mate from 2017's program.
"Draw 4."
"You draw 8!"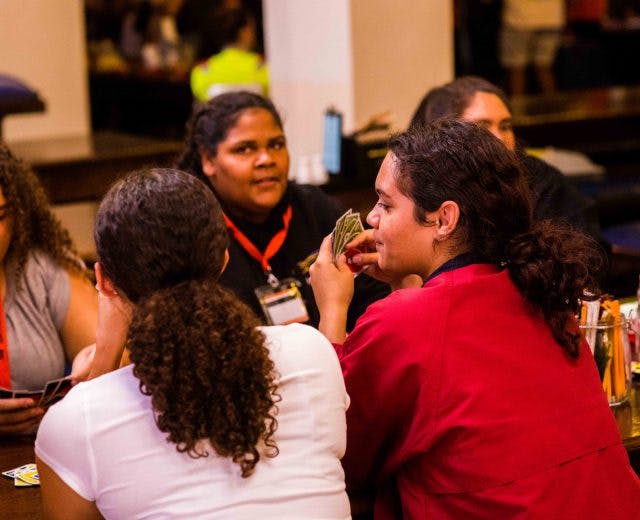 WMBB arrivals
The Hogwarts-style premises quickly filled up with games of cards, Uno, giant Jenga and Connect-4 in the courtyard. Even footy in the forecourt while ibises watched on… and magic tricks at the dinner table. There were plenty of questions from newcomers about what will be happening in the rest of the week, while we all smacked chicken pad thai and peas, or pork and cauliflower.
"Will we get to go to Bondi Beach?"
Some people already know they want to study Marine Biology, while others are keeping their options open or just interested to know what's out there. Or, just quietly, have no idea but will figure it out so don't stress.
"I know all about my local area. Now I want to learn about other marine environments around the world."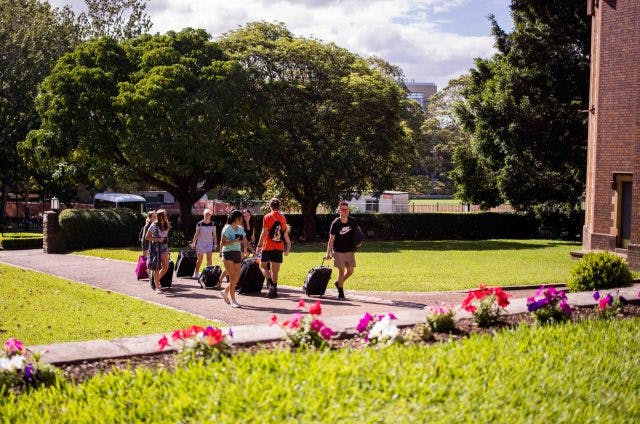 Tonight there are getting-to-know-you games, an amazing performance from the Jannawi Dance Clan and no signs of anyone being ready for bed. There were also one or two questionable jokes…
"Do we have to go in the Talent Quest?"
"Yep, and we pick the song for you. We'll tell you just before you go on stage."
[Nobody laughs, so I sulk into my pad thai and peas]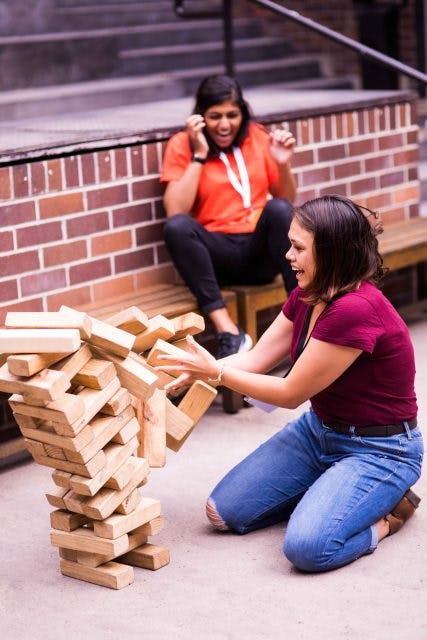 Keep up to date this week here.
YOU MIGHT ALSO LIKE: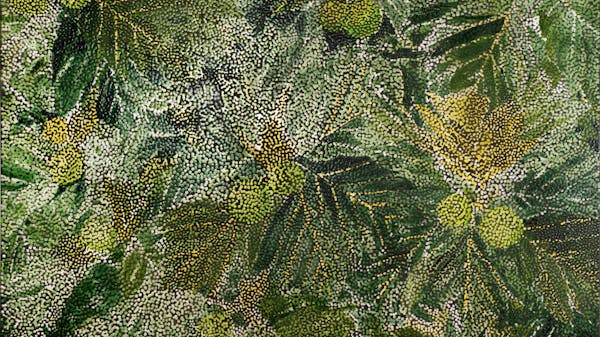 bb2020, winterprogram, wmbb
Jul 31, 2020
Bunga Barrabugu 2020 Spotlight: Kaiawa & Mariah
Australia always was, and always will be, Aboriginal land. But we have a past built on violence, and we can't move forward without acknowledging that.  Kaiawa and Mariah, two students who attended the Bunga Barrabugu Winter Program in July 2020, know about this more than most. Their grandparents were part of the stolen generation, and…
bb2020, winterprogram, wmbb
Jul 29, 2020
Wrap Up: Bunga Barrabugu 2020
Between 13 – 17 July 2020, 34 Indigenous Year 12 students attended the Bunga Barrabugu Winter Program from all around Australia. And look – even though this year we had to go completely digital, the week still went by in a study-crazed flash. From prepping for exams, to subject-specific deep dives, to scholarship applications, this…
wmbbsummer, atsi, wmbb
Feb 25, 2020
Wingara Mura – Bunga Barrabugu Summer Program
7 – 11 December, 2020 Apply to join us on the 2020 Wingara Mura – Bunga Barrabugu Summer Program! Spend five days at the University of Sydney on a residential program for Aboriginal and Torres Strait Islander students in Years 9-11. This program will give you the chance to experience uni life, explore world-class facilities…