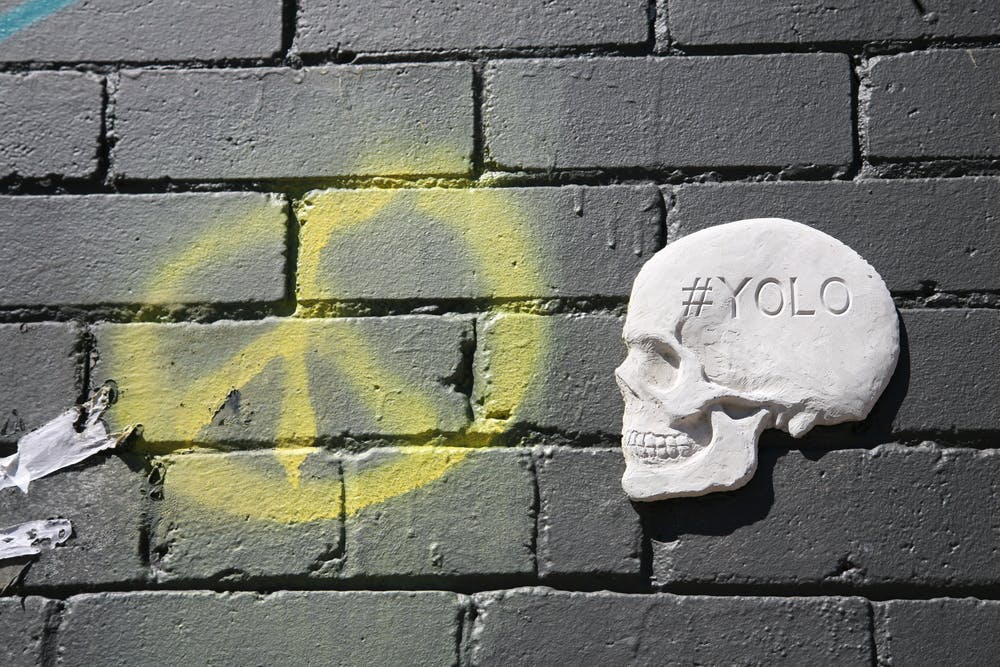 Art is everywhere, once you start paying attention. 
SPIRIT OF AUSTRALIAN SETTLEMENT, BY FINTAN MAGEE
He's made public art in dozens of countries, in places as diverse as Las Vegas, Tunisia, Mexico and Moscow. This work  is on Newington Road in Enmore. One person on Facebook commented, "This is a powerful image Fintan. I kind of feel that every brick in that wall comes from the blood stained earth." Born in Lismore, Magee has been described as "Australia's Banksy" by a number of media outlets – he has said in various interviews that he hates this and that it's a result of "lazy journalism". His work often deals with environmental issues, and uses personal stories to talk about broader issues like climate change and the migrant crisis. Something I love so much about his work is his use of regular-looking people as models – his work has a an earthly realism at the same time as striking out into surreal beauty.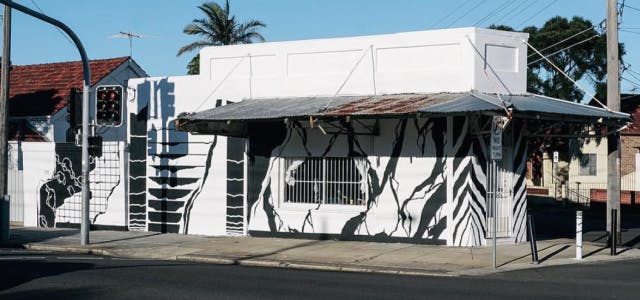 Georgia Hill is a commercial illustrator and artist with a signature graphic, monochromatic style, and has moved for some big-deal businesses like Penguin Books, Nike and the Sydney Opera House. She's famous for her use of bold text, but I prefer her images without words because it really draws your attention to the exquisite detail in her work. My favourite is this private house in Marrickville, one of her almost-unknown pieces. The detail is incredible. I love her skill in imitating the natural, rambling patterns of nature – of marble, of land forms, animal markings, geological images of eroding earth. I could look at this for hours.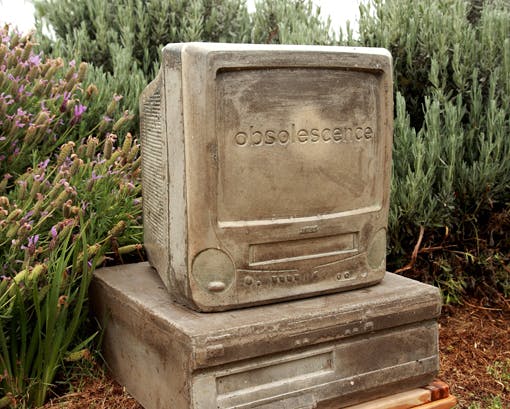 EVERY THING BY WILL COLES, EVER
Probably my favourite artist of all time. When I was young and first moved to the city I felt lonely, like everybody does, and every time I stumbled upon one of Will's works in an unloved back street I felt like I had a friend. He works almost exclusively in concrete, making small sculptures which he glues on footpaths, alley walls or any inconspicuous, boring place you can imagine. His work focuses on themes of consumerism, alienation, environmental destruction and loneliness. Most of his work is unaccounted-for, because despite the industrial-strength glue he uses, his sculptures are regularly stolen by fans (I'm innocent…). He was born in England, moved to Sydney in the '90s and is now based "somewhere in Europe". I miss him.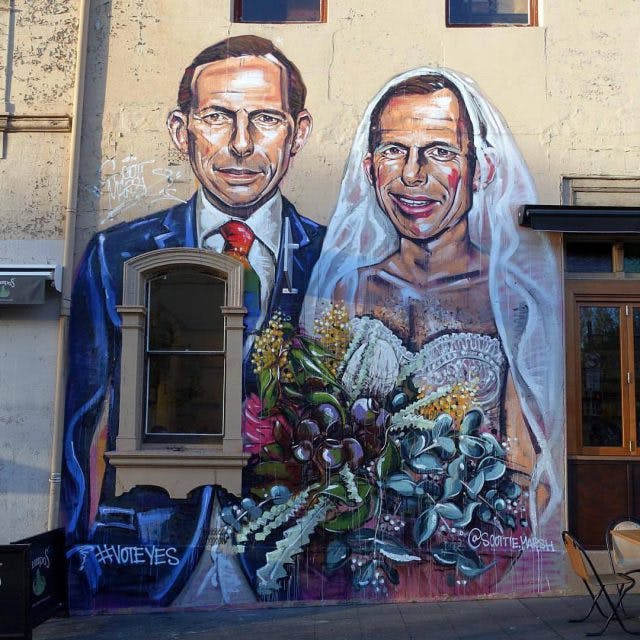 Scott Marsh started tagging at the age of 12, and then did Bachelor of Fine Arts. His political murals have gained world-wide attention – Casino Mike (2016), dealing with liquor-licensing laws, Reef Killers (2017) and (also 2017). Marsh's massive mural of Kayne West pashing himself, Kanye Loves Kanye (2015), went viral and attracted the attention of international media. Legend has it Kanye paid to have it painted over. Marsh created Tony Loves Tony after the former PM urged Australians to "protect the family" with their vote in the same-sex marriage postal survey. Abbott's sister, City of Sydney councillor Christine Forster, told Hack the piece was a "great example of modern street art". Lol. It's on the wall of Hunter's Corner Café on Pitt Street in Redfern, and I want to point out how beautifully Marsh paints native flowers.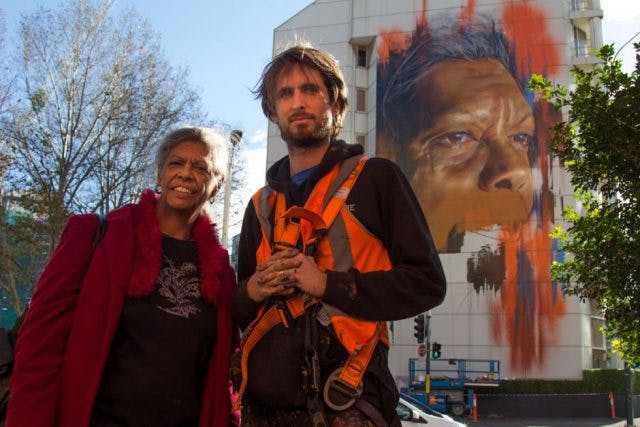 AUNTY JENNY MUNRO, BY ADNATE
Matt Adnate has painted dozens of Indigenous portraits across Australia. He works with cultural advisors to make sure he shows respects to the people he wants to honour. Matt's work is mostly in cities, where the portraits also act as a physical Indigenous presence in predominantly white public spaces. "It's about them reclaiming what was taken from them," says Adnate. He's spent time with Indigenous communities in Arnhem Land, the Western Desert and the Northern Territory's Central Desert as well as Melbourne, photographing subjects that he would later paint. He also travelled to the Kimberley with the Indigenous Hip Hop Projects and spent time in the Frog Hollow community.
His massive portrait of local activist Aunty Jenny Munro is on a 10-storey building on the corner of Harbour and Goulburn streets in the Sydney CBD. "I made the statement long ago: I fight till I die and I'm not dead yet," was the message Munro had for the State Government who she said was "targeting poor people" with its plans to relocate public housing tenants in Waterloo. Munro founded the Aboriginal Tent Embassy in Redfern which protested for 15 months against the new development on The Block. "I was just blown away by all the incredible achievements she's done," says Adnate.
When asked what she thought of the mural, Munro said, "It's awesome. And this [mural] has come from not even the Aboriginal community. It's come from mainstream Australia, so if I'm making enough noise for mainstream Australia to take notice of me, maybe the Government should start listening to me before I come knocking on their door."
YOU MIGHT ALSO LIKE: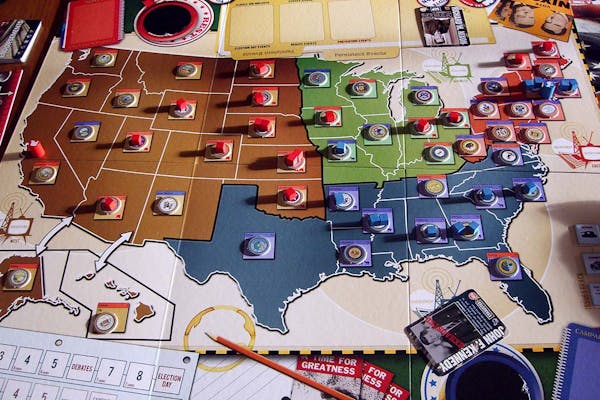 learn-something, news, politics
Nov 12, 2020
How does the American electoral system work?
Learn it now so you can be ready for the next one… if there is a next one. (Nah, there will be.) The eyes of the world have been on the USA's election, and it hasn't been the easiest thing to understand. For starters, it isn't like you vote either Democrat or Republican, and whoever…
Who is Adnate? He's a massive artist
As in, he paints massive artworks. He also has an entire Perth hotel dedicated to his stuff. Street artist Matt Adnate began his artistic career as humbly as the rest of us – tagging his bedroom bunk bed back in 1992. But while we focused on getting that cool "S" juuuuust right, he honed his…
australianpolitics, allthefeels, culture, yabun
Jan 29, 2020
Yabun 2020: Celebrating 250 Years Of Survival
Each year Yabun is such a culturally rich experience, and this year was no exception! Every single time that I head out to Yabun I'm always filled with mixed emotions; excitement to see the acts, performances and dances, anxious to see the mob that I have been missing, and sadness because this is a festival…