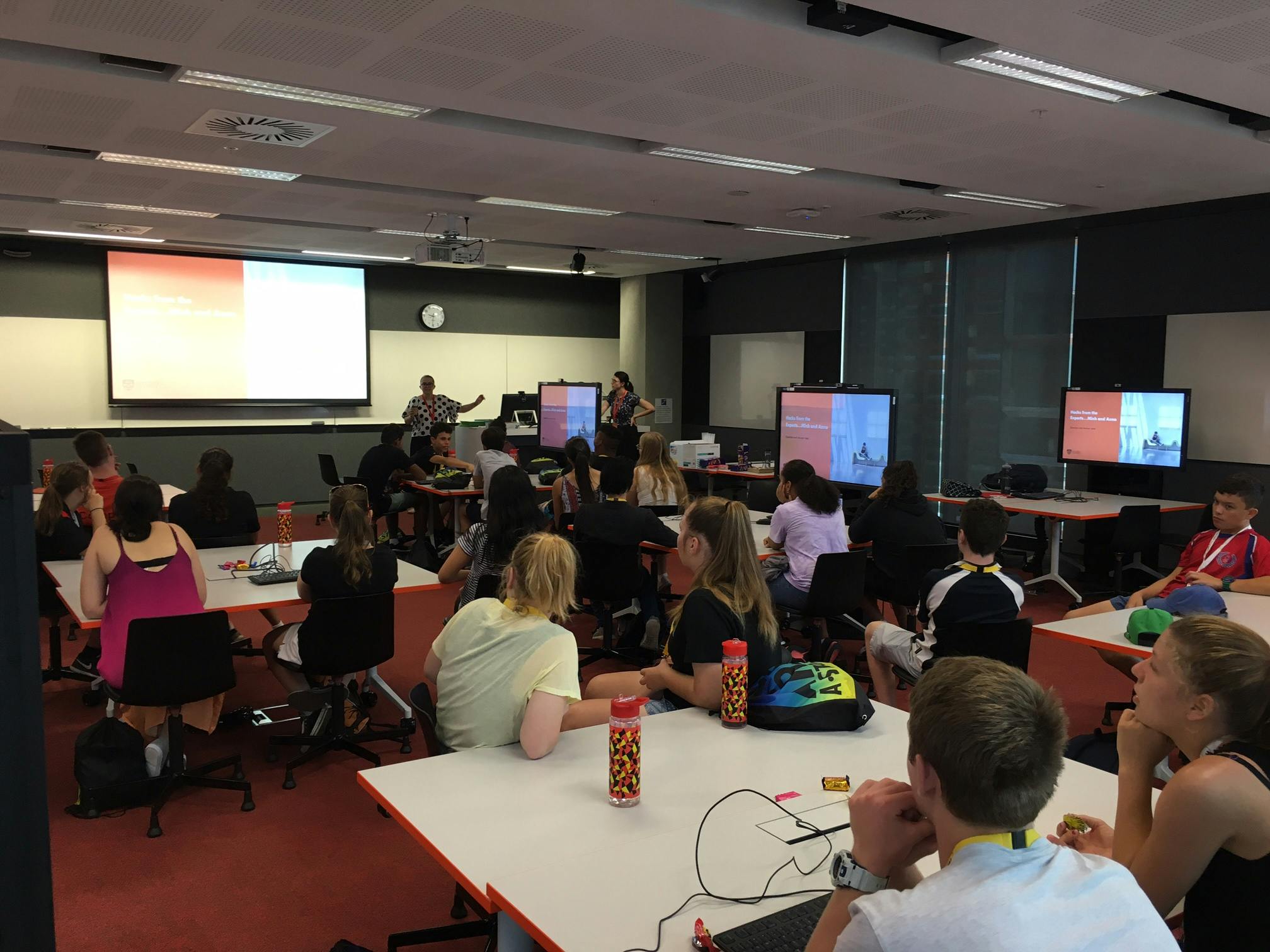 Also, how can I get myself into a fancy suit and non-stop air conditioning?
This morning a crack team of future corporate leaders descended on Sydney Uni's Business School to learn how to market food to the masses. It was an intensive social media blast of information that will see plenty of hashtags and fancied-up photos in their Instagram feeds from now on.
"I thought it would be a really good opportunity to see what they have to offer," said Tanisha from the Central Coast. "It was interesting to learn marketing techniques – what would be good and bad things to do and how to get people to interact with you."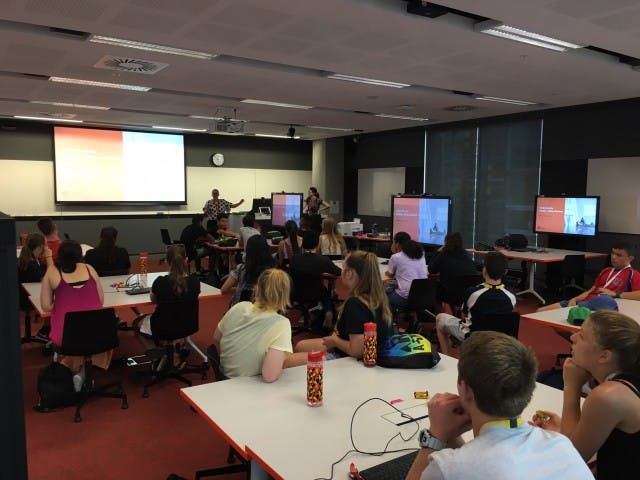 After a quick Q&A about the Inspired by Business and E12 Scheme (which are both great pathways to uni), James and Matt popped in from Hello Social to share their social media wisdom, and we got down to business.
Guess that platform!
The first activity was to rank six social media platforms in order of their popularity in Australia. If you want to have a crack yourself, here's the list: YouTube, Facebook, LinkedIn, Twitter, Instagram, Snapchat (answers below).
The main takeaways from this were that you get extra points for drawings and everyone hates LinkedIn… if they've even heard of it.
"The most surprising thing was probably what is most and least popular," said Tanisha. "I guess being a teenager, the things you're involved with aren't what the adults are involved with. You haven't got the insight of everyone else."
Targeting your audience
Next up we got some hot tips from the boys about what works well on Instagram. If you're keen to boost your own Insta profile – and who isn't? – the key points are:
*Use aspirational images
*Explore the lifestyle that creates your brand
*Develop a brand voice, and
*Encourage involvement.
Overall, it's about thinking about your audience. So those selfies better be on point, with a caption to match.
Split into five groups, each table had to ID a target audience for the famous brand they'd been given (LEGO, Go Pro, Ferrari, Louis Vuitton and Apple). There was lots of discussion over the age of most GoPro users, while LEGO was a bit easier to figure out.
Once everyone was happy with their analysis, it was read out to the group. Here's the target Ferrari market: "A rich Italian man who lives in Beverly Hills, 30 and over and married, small family and is pretty wealthy." Spot on, boys. There's no point selling it to a 16-year-old who just got his Ls (unless he's the son in that small Italian family from 90210).
Instagram fundamentals
Now we're talking. When you're writing a caption, there are three things to remember: keep it short, don't sell and use emojis. Apparently 5-10 hashtags is a good amount, too.
As for making your photos extra-pretty, the Hello Social boys recommend Snapseed (which you can search for on your phone). It's easy to use and everyone made an ordinary photo of a rocky beach look amazing before moving on to something more commercial – fast food!
Will Tanisha be changing the way she uses the platform? "Probably, actually. I'm not on social media heaps but just looking at that – how they get people's attention – I probably will."
Creating a post for Instagram
Finally, the big mission. Each group visits an eatery on campus at Sydney Uni, buys something and creates an Instagram post for the outlet, using all the skills they've learned this morning. Suddenly the room is packed with marketing pros… and we are very hungry.
The big finale
Three judges from the Business School lined up to be impressed by the presentations. One group filmed a time-lapse video of their pork roll being made, another group used an action shot of a delicious crepe being made and another used "Slice Slice Baby" as the caption along with hashtags like #sydneyfoodie, #rectangle and #handmodel (there's a hand picking up a slice of rectangular pizza in their photo).
Seriously, is it time for afternoon tea yet?
Answers
In order of popularity: 1. Facebook, 2. YouTube, 3. Instagram, 4. LinkedIn, 5. Twitter, 6. Snapchat. (If that's shocked you, it's probably because mainly teenagers use Snapchat and mainly adults use LinkedIn.)
YOU MIGHT ALSO LIKE: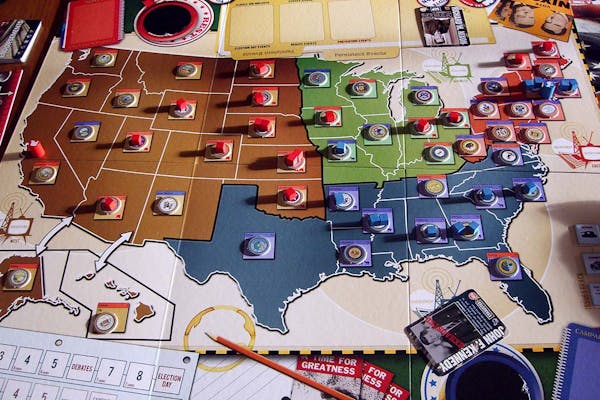 learn-something, news, politics
Nov 12, 2020
How does the American electoral system work?
Learn it now so you can be ready for the next one… if there is a next one. (Nah, there will be.) The eyes of the world have been on the USA's election, and it hasn't been the easiest thing to understand. For starters, it isn't like you vote either Democrat or Republican, and whoever…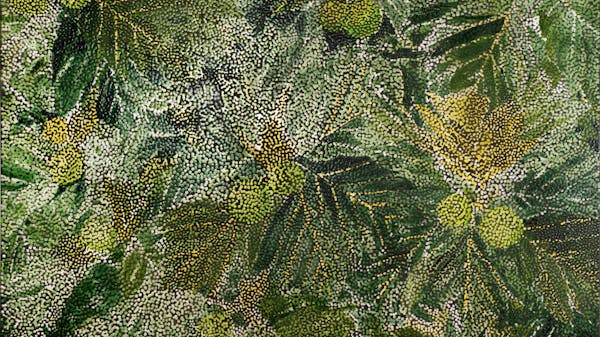 bb2020, winterprogram, wmbb
Jul 31, 2020
Bunga Barrabugu 2020 Spotlight: Kaiawa & Mariah
Australia always was, and always will be, Aboriginal land. But we have a past built on violence, and we can't move forward without acknowledging that.  Kaiawa and Mariah, two students who attended the Bunga Barrabugu Winter Program in July 2020, know about this more than most. Their grandparents were part of the stolen generation, and…
bb2020, winterprogram, wmbb
Jul 29, 2020
Wrap Up: Bunga Barrabugu 2020
Between 13 – 17 July 2020, 34 Indigenous Year 12 students attended the Bunga Barrabugu Winter Program from all around Australia. And look – even though this year we had to go completely digital, the week still went by in a study-crazed flash. From prepping for exams, to subject-specific deep dives, to scholarship applications, this…