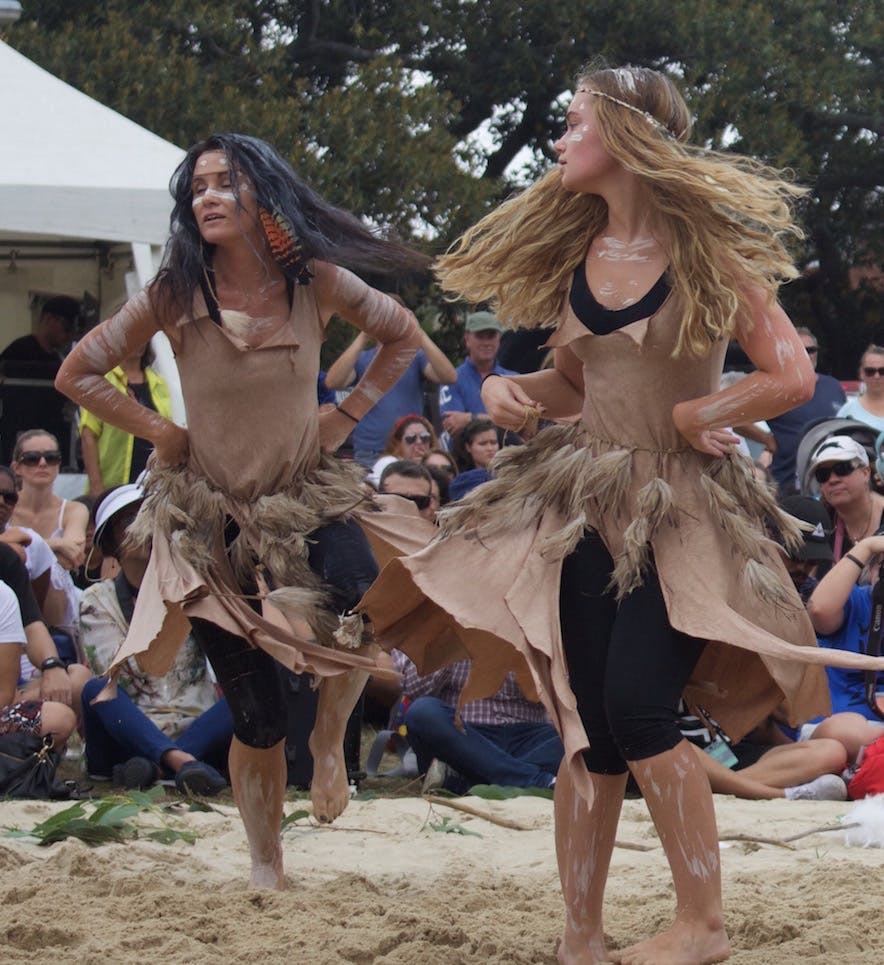 Did you know that 'Australia Day' on Jan 26 was only declared a holiday in 1994? And that it's not even the correct day that the British colony was established?Also, why do Indigenous people get told to "get over it" when they describe their suffering under colonialism, but we're encouraged to think about the hardships faced by white settlers? To put this in perspective, let's take a walk down memory lane.
August 22, 1770 – Captain James Cook claims the east coast of the place he calls Australia for Britain. Back in the UK, the President of the Royal Society, one of the voyage's sponsors, wrote that the people of any lands Cook might find were:
"The natural, and in the strictest sense of the word, the legal possessors of the Regions they inhabit. No European Nation has a right to occupy any part of their country, or settle among them without their voluntary consent."
What went wrong there, guys?
January 20, 1788 – Arrival of the First Fleet at the place they name Port Jackson. They have been sent to establish a penal colony.
January 26, 1788 – Arthur Phillip and crew row to Botany Bay and 'take possession of the land' in the name of King George III, and raise the British flag. Woot (for some).
February 7, 1788 – Check it out historians – the formal establishment of the Colony of New South Wales did not happen on Jan 26 as is commonly thought. It actually occurred on February 7, when the formal proclamation of the colony and of Arthur Phillip's governorship were read out. Jan 26 was just the flaggy waving.
January 26, 1837 – Formal celebratory dinner held which draws criticism because it is only for people born in Australia (white people, that is). An attendee justified it in the by writing, "If they invited emigrants… they would be subject to the presence of persons with whom they might not wish to associate. The 'Australians' had a perfect right to dine together if they wished it, and no one has a right to complain." Foreshadowing much?
1839-1935 – 'Australia Day' is celebrated on a variety of dates in different states, including July 30, July 28, July 27 and July 26.
January 26, 1938 – The 150th anniversary of British settlement in Australia in 1938 was widely celebrated. It was also the first Aboriginal Day of Mourning, which began with a march through Sydney and concluded with a congress of 100 Aboriginal leaders. The text distributed at the congress began with, "This festival of 150 years' so-called 'progress' in Australia commemorates also 150 years of misery and degradation imposed on the original native inhabitants by white invaders of this country."
January 26, 1994 – all states and territories begin to celebrate a unified public holiday, and Australia Day on Jan 26 is officially declared a thing for the first time.
January 26, 2001 – The first major Survival Day festival called Yabun (meaning 'song with a beat' in the local Sydney Gadigal language), is established by Gadigal Information Service (GIS) which is home to Koori Radio. It's run every year since then and now attracts an average of 35,000 attendees.
2016 – The city of Fremantle shift their Australia Day celebrations to January 28. In the same week, Indigenous hip-hop duo AB Original release their single January 26.
March 2017 – Survey revealed that while a majority of surveyed Australians say January 26 is important to them, most don't know the reason why it is held. Only 43 per cent were able to correctly name the day as the landing of the First Fleet at Sydney Cove in 1788.
August 2017 – The council of the City of Yarra in Melbourne resolved unanimously that it would no longer refer to January 26 as Australia Day. The City of Darebin later followed suit.
January 2018 – Poll conducted by The Australia Institute found that 37 per cent believed the current date was offensive and 56 per cent don't mind what day it is held.
January 27, 2018 – Invasion Day rally in central Melbourne attracts up to 60,000 marchers.
January 27, 2018 – The famous Triple J Hottest 100 Countdown is played for the first time on the 27th, and will now be held on the last Saturday of January each year. This is in response to a survey last year which drew 65,000 participants, with 60 per cent saying they wanted the Hottest 100 removed from Australia Day because of its offensive connotations. Despite fears of boycott, it attracted the largest number of votes in its history.
Earlier this month, right-wing conservative Senator Cory Bernardi launched the "Australian Conservatives 100", a list of 100 Australian songs that can be streamed online, in response to Triple J's decision. Many artists, including Darren Hayes from Savage Garden, Hilltop Hoods and Powderfinger asked to be removed from the list rather than be associated with Bernadi.
It's becoming more and more clear that it's a matter of time before Australia Day gets moved to another date. And when that happens, wouldn't it be great if, instead of seeing who can drink the most tinnies, people celebrated a national holiday by showing respect to the country they live on? What if it became normal to spend the day taking photos in a national park or other beautiful natural landmark? What if it became normal to spend the day picking up rubbish, or planting Australians natives to help out the land that is increasingly struggling under overpopulation and pollution? What if it became normal to help out at an Indigenous literacy centre, or volunteering with an awesome charity like AIME?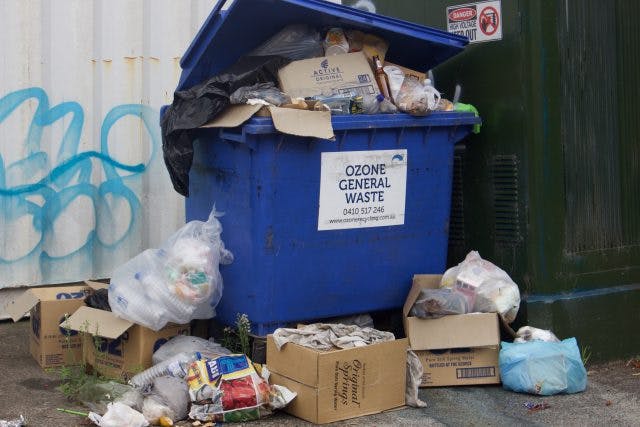 On my way to Yabun I walked past this skip overflowing with rubbish and thought about how Australia Day probably creates more litter than any other day in the year, with people getting pissed on beaches all over the country and throwing their bottles over their shoulders.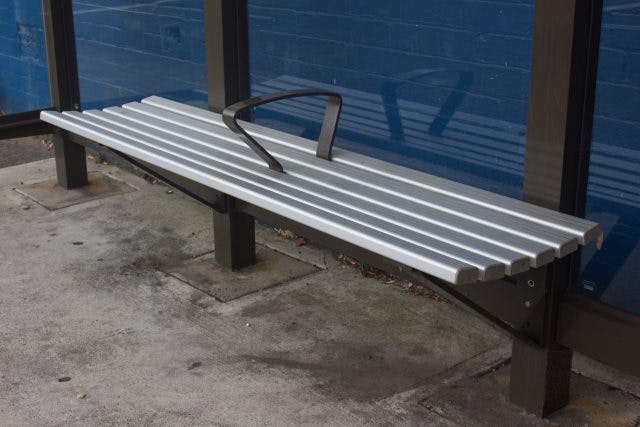 While I waited for the bus to Yabun I noticed this example of hostile architecture. The only purpose of the little arm rest is to stop people who are sleeping rough from being able to lie down. Until Australia can think of better ways to deal with rubbish than sending into our waterways and landfill, and can think of functional ways to help the disadvantaged rather than just giving them a crick in their back, I'll hold off on celebrating.
YOU MIGHT ALSO LIKE: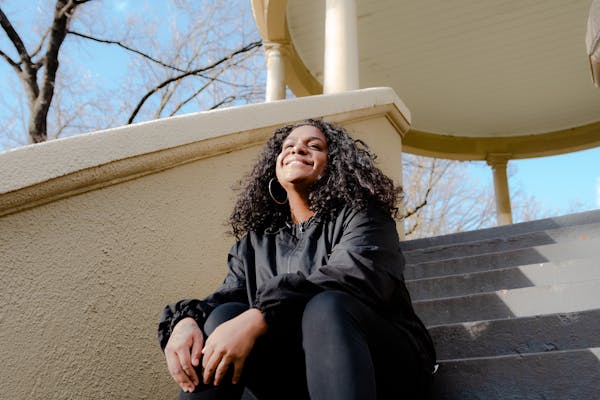 atsi, australian-politics, miiesha, music
Mar 4, 2020
Miiesha – Spitting fire and truth
Miiesha is a young Aboriginal and Torres Strait Islander artist that needs your attention right now! She's from central Queensland and she is killing it at the moment with having just dropped an absolute banger of a song, Twisting Words. Miiesha first caught my attention about late last year when I heard her song "Drowning"….
australianpolitics, allthefeels, culture, yabun
Jan 29, 2020
Yabun 2020: Celebrating 250 Years Of Survival
Each year Yabun is such a culturally rich experience, and this year was no exception! Every single time that I head out to Yabun I'm always filled with mixed emotions; excitement to see the acts, performances and dances, anxious to see the mob that I have been missing, and sadness because this is a festival…

australian-politics, volunteering
Aug 15, 2019
Four young people who were killing it in 2019
Here's some inspo if you're looking to get on the list. There are many fields in which you can make your mark: art, music, politics, fashion, being really good at Mario Kart… Here are some young people currently crushing all opposition in their quest to be the GOAT. At least until they age out of…