These true horror stories will help men understand the full pain of menstruation.
The following are quotes from young Australian women:
"You know how you get diarrhoea when you get your period. One time I was on the train coming home from work and I thought I was just subtly farting but I actually shat myself a little bit. And then when I went to the train toilet I realised I'd bled through my tampon as well. So I had this huge red and brown patch on the back of my pants, and because it was summer I didn't even have a jumper to tie around my waist."
"The worst thing is when you have a cold and you have your period at the same time. It's just one long moan."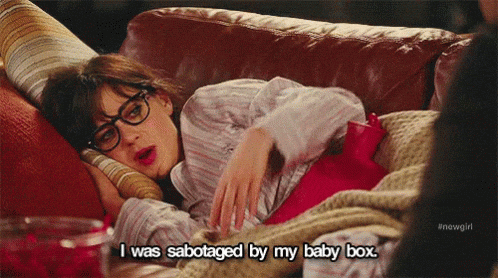 "Pretty much all of my sheets and my underwear have blood stains on them. Like the gross old grey brown kind. I've stopped buying white underwear. And oh my God, my mattress. Whenever I change the sheets, looking at it turns my stomach."
"I was on a second date with this guy. I was so into him and I was really nervous, and I was wearing this white dress. We went back to his house, and on his bed we were fooling around. He was touching me and then he said, 'Um, I think you just got your period.' And he lifted up his hand, it was covered in blood like a horror movie."
"So imagine if for a quarter of every year, your body was in terrible, awful, 'throw me a handful of painkillers now' pain. And, during that time, you feel like everyone hates you and if you even see a cute birthday card at the newsagency it makes you start crying."
"It feels like I'm being beaten up from the inside."
"It always surprises me that a lot of guys are fine having sex with you when you're bleeding. But then there are guys who are like, 'That's so disgusting, that's wrong.' How would you feel if I reacted like that to your cum?"
"I always know I'm going to get my period because for a day or two before, I suddenly get really, really horny. Like it's my last chance to breed kind of horny. But my boyfriend thinks it's gross to have sex on your period so I lie there in a lonely ball of pain."
"Having your period feels shit but I still feel lucky to be living in a culture where I don't have to feel ashamed, or scare of it. Women in other countries get told really bizarre stories, like in Japan women can't be sushi chefs because men think having your period throws off your sense of taste. It other countries it's so shameful that women try to hide it from men their entire lives, trying to convince them they don't even get a period, or that their menstrual blood is so filthy it can cause cancer. It's important to talk about it to break down the stigma around the world."
For a description of menstruation rituals and believes from around the world, you can read the full Women's Health article here.